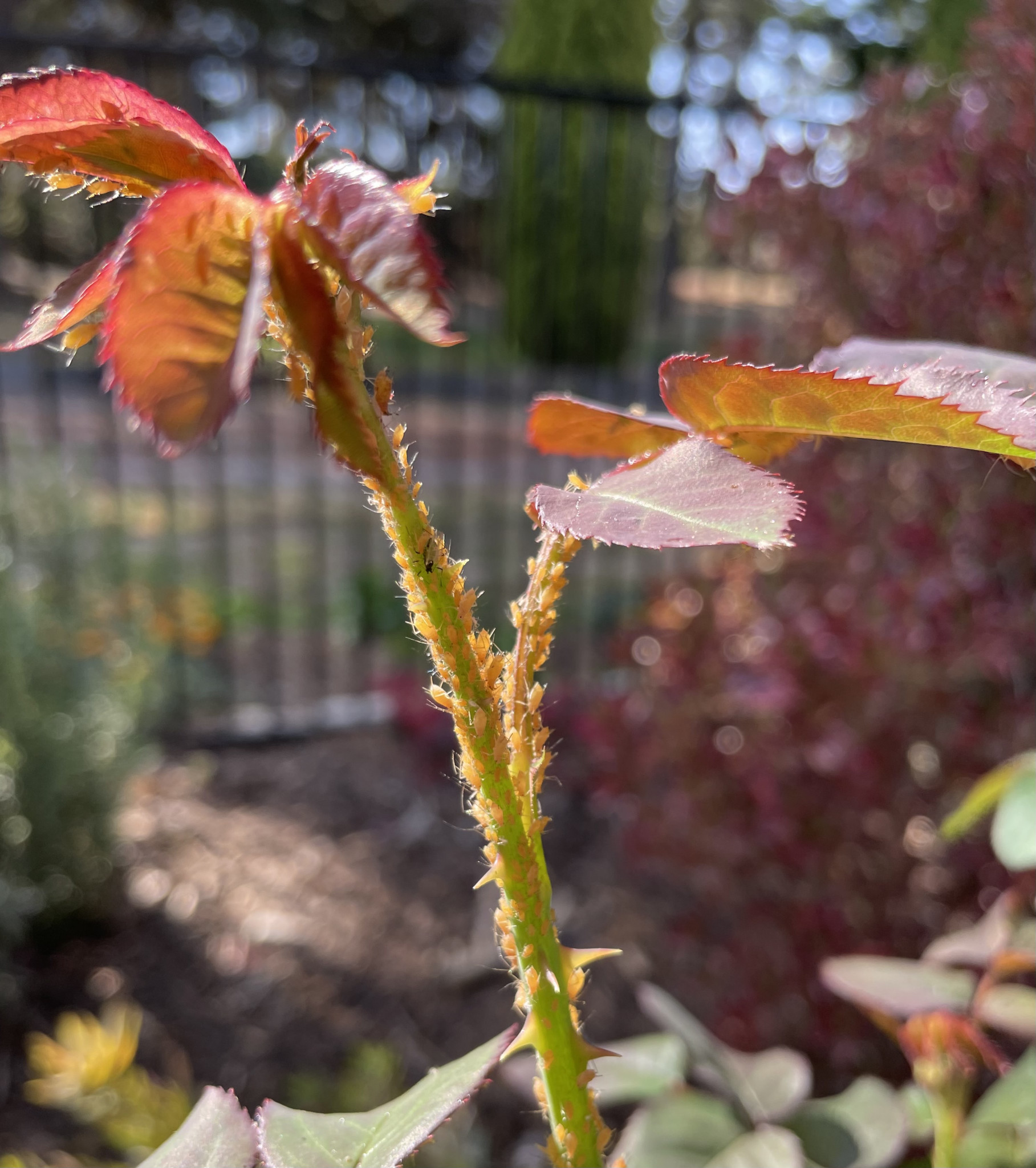 My garden at home is seriously infested with aphids. Aphids are worldwide, called greenfly in many countries. They always come in plague proportions on the warm summer wind. They can be green, the most common, gold, seems to prefer my hoyas, and black, which infest my garlic and chives. If they are in small numbers I run my fingers over the infested parts and squash them. The resultant stain on your thumb is where we get the expression "having a green thumb". Slightly bigger infestation calls for them being washed off with high hose pressure. Be careful to keep your free hand behind the buds to avoid breaking them off.
However, for a serious infestation, stronger measures are needed. It is my belief that any spray regime should be safe for the user and for the environment. It should also be cheap to use so that there is no hesitation because a product is expensive. Historically there have been some very nasty commercial products offered. Remember the wonder spray – DDT.
Any spray regime must be regular – 10 to 14 day intervals – and must be repeated after being washed off with rain. All bugs develop an immunity to a particular spray, so one needs to change the spray type regularly.
The principle of spraying pests is that they are all air breathers. If we can coat the little rascals with a contact spray, it covers their breathing ports and when it dries, they suffocate. The problem is none of the sprays can discriminate between good bugs and bad bugs.
Let's start off with a very cheap bug spray. Soapy water – spray it on, under and over the plants. BUT soapy water is hard to disperse as it suds up in the sprayer. Then there is the full cream milk spray. 1 part milk to 10 parts water. Flood the plant with it. It leaves a coating on the leaves, which also stops fungal spores from settling. Does this coating also, stop the production of chlorophyll, which relies on the sun's interaction with the leaves?
Getting back to a safe spray. The following formula (NON-Registered) will act as a pesticide and fungicide. Mix 2 tablespoons of bi-carb of soda with 30 mls of soluble vegetable oil (Eco-Oil or Seasol, but not a mineral oil such as White Oil which will burn the foliage in hot weather) and 3 drops of washing up detergent. Mix them together in 5 litres of water. During the growing season September to April, every 10 to 14 days, spray all the foliage, stems and near ground of the rose bushes. REMEMBER that you will kill all bugs, good and bad, so if you have invested in predatory mites, do not use this formula.
(Abbrev. version) by Wal Johnston. For full story - Go to Website: - About- Rose Stories