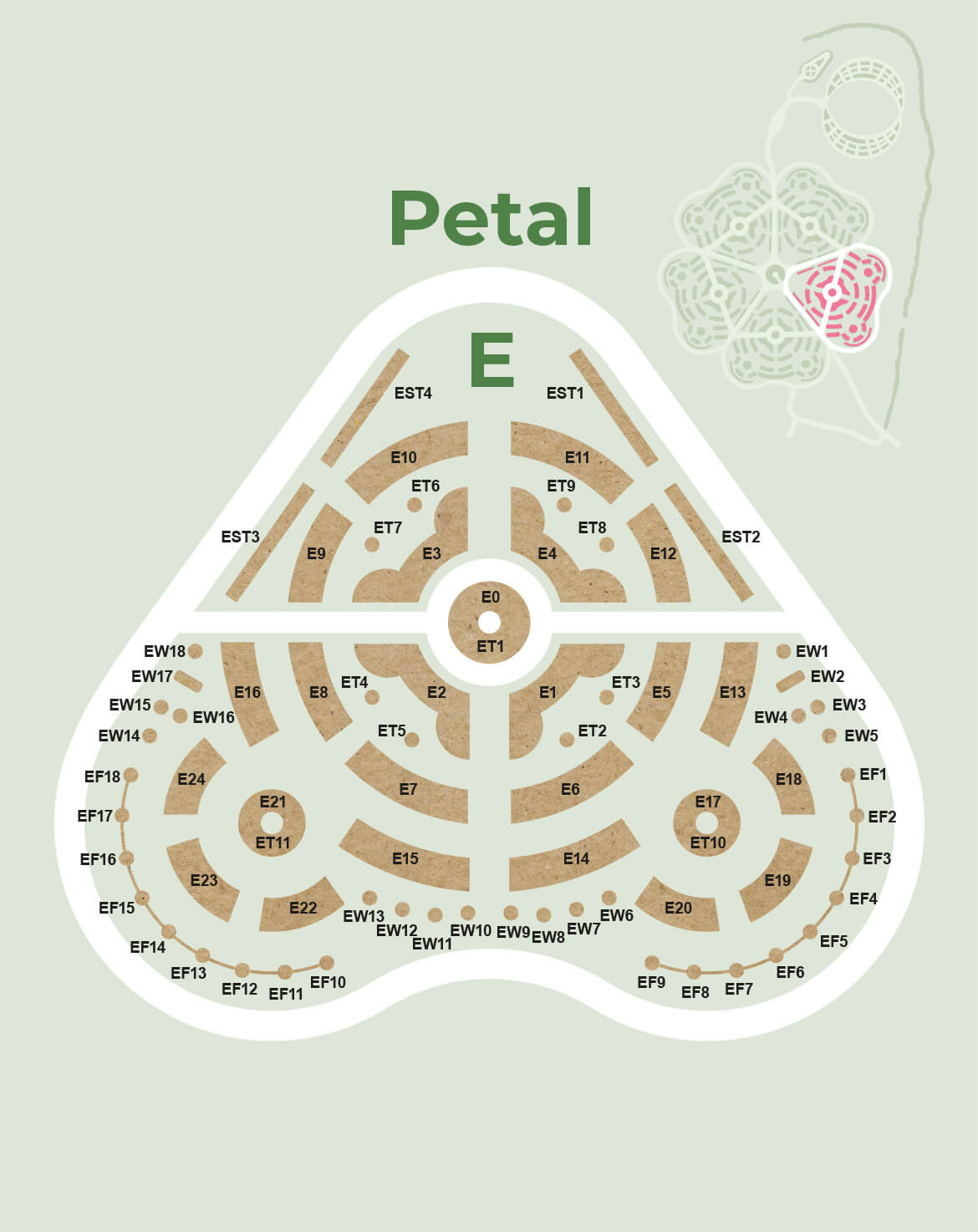 The Tudor Rose
The main Garden is in the shape of a formal Tudor Rose. It is in an artificial bowl, created by the Civilian Engineering Exhibition in 1982. The centre boss is a gazebo surrounded by standards and bush modern roses. Modern roses are Hybrid Tea and Floribunda roses.
Radiating outward are five avenues of standard modern roses, each leading to an arch covered in climbing roses. The avenues define the five formal petals of the Tudor Rose. Each petal contains twenty-five beds of modern roses and eleven tripods containing pillar roses.
Around the outer edge of each petal are eighteen posts with chain and wire between them, containing rambling and climbing roses, which are trained to create festoons or swages. Interspersed with the festoons are twenty weeping standards giving height to the outer edge.
| Name | Bed |
| --- | --- |
| Albertine | A18, C3, D6, E4 |
| Altissimo | BT0, EF11, EF13, EF15, EF17 |
| Appleblossom | B10, C2, D5, D16, E17 |
| Bleu Magenta | EF2, EF8 |
| Bloomfield's Courage | E10, E12, E13, E15, E17, D9 |
| Blue Moon | EF1, EF4, EF9 |
| Cecile Brunner | B17, C11, D2, E2 |
| Cherub | D17, E7 |
| Dark Moments | T6 |
| Dorothy Perkins | B17, DF11, DF13, E10 |
| Dortmund | A2, A10, B5, B11, D10, D15, D17, E15 |
| Double Knockout | E0 |
| Dr Huey | EF11, EF14, HA |
| Dublin Bay | ET4, EF10, EF18 |
| English Miss | E11 |
| Excelsa | C5, E12 |
| Fragrant Cloud | E21 |
| Fragrant Plum | E1 |
| Gelber Engel | E4 |
| Glorious | E8 |
| Heidesommer | E1, E8 |
| Hot Cocoa | E9 |
| Jasmina | A16, A5, C14, EF5 |
| Karen Blixen | E5 |
| Laguna | EF6 |
| Lavender Dream | B7, C10, C17, E6 |
| Maggie | ET4 |
| Neheme | EF7 |
| New Dawn | AF1, AF9, B4, D14, D18, E13 |
| Orange Bunny | E10 |
| Our Rosy Carpet | E2 |
| Red Meidiland | C2, C8, E9 |
| Remember Me | E20 |
| Royal Bassino | A18, E18 |
| Royal Dane | E18 |
| Scarlet Meidiland | B2, B14, E5 |
| Sea Foam | A9, B12, C6, C17, D4, D13, E11 |
| So In Love | E14 |
| Spectabilis | A3, E3 |
| Summer's Evening | B1, DW1, EW19 |
| Sympathie | BT21, EF3, EF6, EF8, EF12, EF16, D14 |
| Tarantella | E15 |
| Tropical Sunset | E3 |
| Veilchenblau | DF7, EF1, EF5, EF9 |
| Warm Wishes | E2 |
| Wild Rover | ET8, EF2 |
| Zonta | |