Bendigo Bank Branch Manager presents a defibrillator to VSRG Volunteers.
On Wednesday 30th March Dino Gulizia, Werribee Bendigo Bank Branch Manager, presented a defibrillator to President Joan Broadstock. He was thanked by the volunteers at the State Rose Garden for his contribution to the purchase of the defibrillator.
The volunteers had been looking to purchase a defibrillator unit for some time. They approached the Bendigo Bank who contributed $1800 towards this life-saving piece of equipment. Some training sessions have been held on its use, but the volunteers hope that this piece of equipment never needs to be used.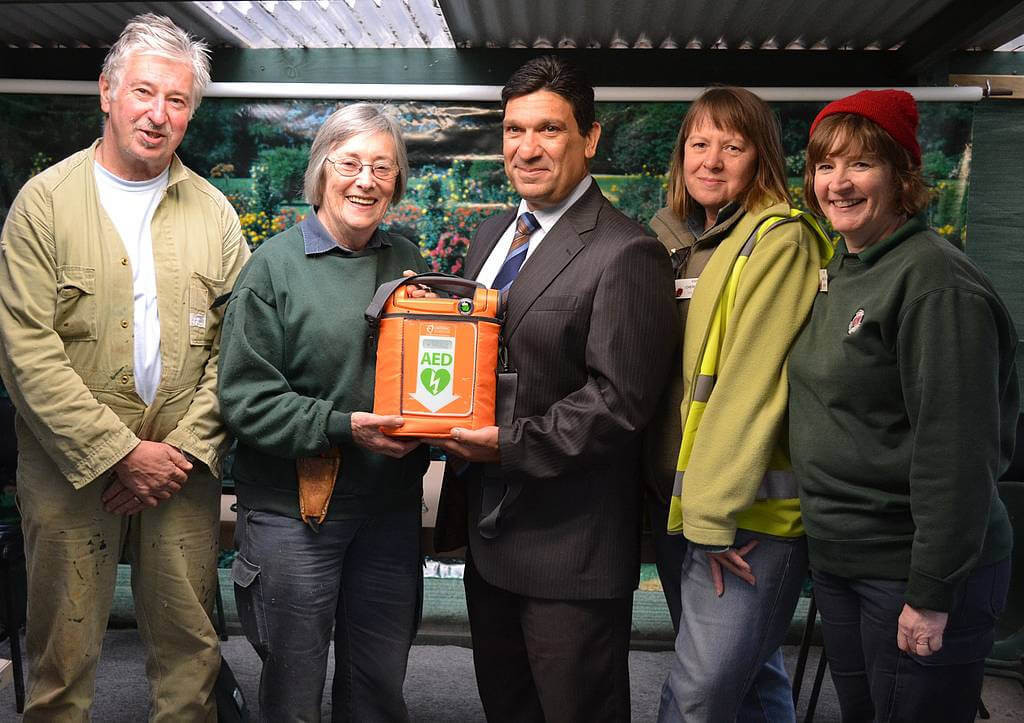 Pictured from left Stanton (convenor First Aiders) Joan Broadstock (President VSRGS), Dino Gulizia Branch Manager, Cheri & Anne (First Aiders)
On Wednesday 23rd March, Eva Major, the Treasurer of the Werribee Garden Club, visited the Rose Garden during morning tea to present a cheque for $500.00 to the President, Joan Broadstock. All the supporters gathered there were surprised and delighted with the large donation which will be put towards maintaining the State Rose Garden.
A big thank you to the members of the Werribee Garden Club for their much appreciated support.
---
We have a commemoration "Angela Rose Taylor" rose blooming magnificently at the moment in the leaf section of the garden.
Constable Angela Rose Taylor, 21, died from her injuries 24 days after the bombing of Russell Street police headquarters on Easter Thursday, 27 March 1986.
The young policewoman killed after a car bomb exploded in front of the force headquarters in Melbourne has been remembered 30 years after the tragedy - and awarded a service medal.